Slickdeals
Disclaimer: As Slickdeals is a current client, I won't divulge specific data points. Instead, I will discuss general performance trends.
Recruiters contacted me in July of 2019 about an opportunity with Slickdeals, a popular deal-sharing website. Less than a month later, I was working with the company's Los Angeles-based content team.
Introducing the Project
The project was immense. I was to create and monetize a vertical from scratch.
Prior to my arrival, Slickdeals had experienced success driving affiliate revenue from credit card conversions in its deal threads and forums. Naturally, the next step for Slickdeals was to establish a content vertical that could maximize revenue growth with its banking and financial services partners.
Hiring managers were impressed with my accomplishments as managing editor of the personal finance blog Sapling, as well as my B2C experience with the Boulder-based marketing team Truth Company.
While the vertical I created now enjoys its own subdomain, Money.Slickdeals.net, when the initial project begin in the third quarter of 2019, we were literally building our content and funnels from the ground up.
Recruiting a team
I assembled a team of some of the top editorial talent in the personal finance space. I recruited subject-matter experts who were recognized authorities in topics such as rewards credit cards, rewards travel, brokerage accounts, cryptocurrency exchanges, and deposit accounts.
Ultimately, our editorial team included former bankers, brokers, travel-hacking bloggers, financial advisors, and a crypto millionaire. All had produced content for the most prolific personal finance publishers, including NerdWallet, Bankrate, The Points Guy, and more.
Developing the content strategy
Tapping into my editorial background from years of working in newsrooms and, also, leveraging the search engine optimization (SEO) training I received from Leaf Group, I developed both a content strategy and a content marketing strategy. I would eventually combine these two playbooks — dubbing the result as my "offer-led content strategy."
Rather than deploying the strategic list beats and bullet points found in online marketing guides, my offer-led content strategy bypassed low-intent traffic from passive audiences and focused, instead, on high-intent queries whose content could be directly mapped back to their impact on revenue goals.
Modeling revenue opportunities
Slickdeals works with multiple affiliate networks that each house hundreds, if not thousands, of potential affiliate offers. Yet, nobody had bothered auditing these networks and offers to compile a list of potential financial products to share with Slickdeals' audience.
I delved into each of the affiliate networks — Rakuten, Impact, Commission Junction, Awin, PepperJam — and created a master list of merchant parters. The ensuing spreadsheet included financial institutions, specific offers, commissions, cost-per-acquisitions (CPAs), and affiliate offer terms — many of which were not being leveraged or maximized.
Producing an inventory of affiliate offers was the first step in modeling opportunities and forecasting revenue potential.
Setting goals and KPIs
When working with progressive and adaptive companies like Slickdeals, you'll often have a number of goals and key performance indicators (KPIs) that represent the mission and diversity of the people you're working with. As a team member, I certainly had these types of organization-based goals.
However, sooner or later, even with the most agile of employers, your fundamental goal comes down to revenue. And the vertical I was charged with monetizing was no different.
Traffic is important because traffic begets revenue.
But conversion was king and queen in the early years of the project.
Vertical revenue performance: 2020-2021
Affiliate revenue was non-existent while we spooled up and launched the vertical in Q3 of 2019, but we saw our first drips by Q4.
However, performance continued to trickle throughout the first quarter of 2020, but successful implementation of email campaigns begin to yield fruit in May of 2020.
As our understanding of our audience developed, so did our content.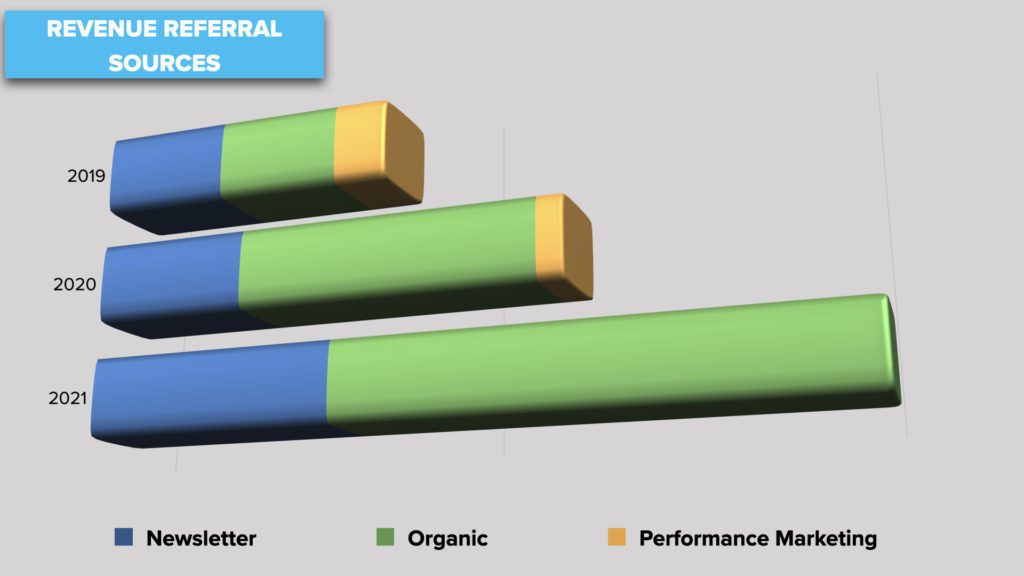 Maximizing organic potential
Email campaigns are a key component of the project's breakout success, but organic conversions are crucial for affiliate marketing-based revenue models. 
Managers at Slickeals placed SEO and organic traffic at the top of my to-do list.
Competitive research
Since we were a new vertical in a crowded space, we needed to identify what made Slickdeals' financial offerings unique. Evaluating the strengths and weaknesses of the giants in personal-finance publishing helped us fine tune our voice and determine what made our vertical authentic.
Furthermore, gathering high-level information about our rivals' domains, keywords, and rankings gave us an understanding of how to differentiate our similar offers and value propositions.
Keyword research
Keywords change, our audiences evolve, and search algorithms evolve too. To compensate for this fluid dynamic, we continually pushed our content through custom SEO workflows that I designed with different types of content in mind.
As an example, monetized content had a separate SEO flow from informational articles, which were optimized differently than a product funnel.
Nonetheless, all content was regularly evaluated, scored, and prioritized — using a set of SEO tools including Ahrefs, SEMRush, SearchMetrics, Google Search Console, and several old fashion pivot tables.
But just like our similar financial offers, our competitors were using the same tools. Our success came from frequency, duration, and emphasis. 
I've found that when it comes to a successful SEO strategy, it's not the tools — nor is it how you use them. The power is in the repetition.
Understanding financial compliance and brand management
Working with financial institutions comes with potential scrutiny from the Federal Trade Commission (FTC), and if you're monetizing content topics like cryptocurrency or investment brokerages, you'll want to understand guidelines from the Securities and Exchange Commission (SEC) too.  
Although, in my experience, brand compliance is the most complicated. 
Credit card issuers regularly update their limited-time offers, perks, and annual percentage rates (APRs)
Interest-bearing checking accounts and savings accounts routinely adjust average percentage yields (APYs), features, and fees
Fintech companies and other financial services also have recurring product updates
As publishers, we need to ensure accuracy of these product details, which can become overwhelming when you work with dozen of merchants who each have dozens of products.
If you do not have a system to organize and implement compliance updates, expect some angry communication from brand managers threatening to throw you out of their affiliate program for compliance fails.
Furthermore, there are no off-the-shelf solutions to help publishing teams ensure compliance, be it brand, regulatory, or otherwise.
Another key contribution to the success of Slickdeals' personal finance vertical was a system that I developed and referred to as "The Tracker."
Optimizing for success: The subdomain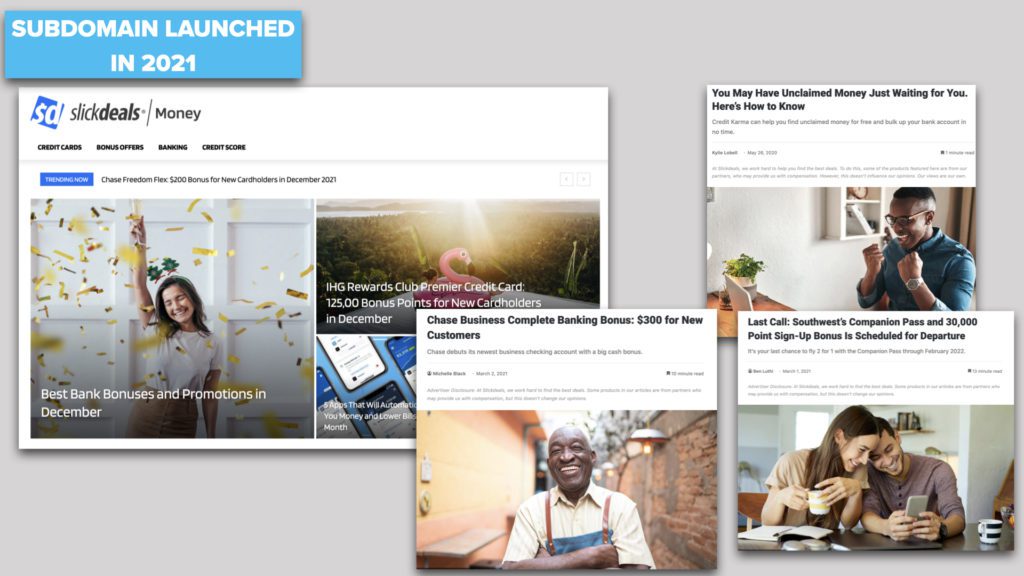 The project began slowly, but as we built our library of content, developed syndication agreements with Hearst, MSN and Yahoo, and optimized for search, our offer-led content strategy bloomed.
Even more important than revenue, was our emerging audience. Deal seekers have always come to Slickdeals to save a couple of bucks on Pampers or a Dell monitor, but more and more users were now looking to us for new account bonuses, travel and cash-back credit cards, free trials of financial services, and deals on crypto.
Current Project Status
In the third quarter of 2021, our personal finance vertical branched off into its own subdomain: Slickdeals Money (aka Money.Slickdeals.net).
To date, I've driven over $2 million in affiliate revenue for Slickdeals, and my strategy is pacing towards doubling that figure by the end of 2021.